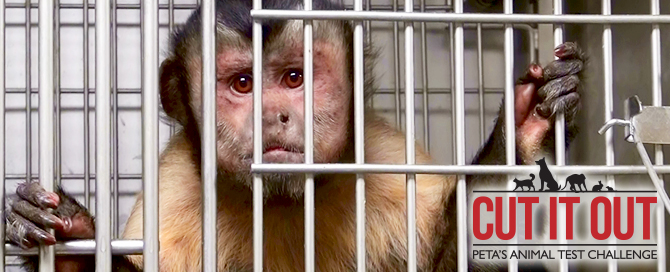 Please help end crude and cruel experiments on primates!
Dear clint,
How do you get away with murder? You do it in a laboratory and call it "medical research".
Each year, thousands of primates are poisoned, cut open, and tormented in European laboratories.
Locked in rows of cold, barren steel cages with no opportunity to have a life, no chance ever to climb a tree, forage, or play with their family and friends,these intelligent animals live in constant, unabated fear. Used in experiments, they may be injected repeatedly with chemical compounds or exposed to fatal diseases causing vomiting, diarrhoea, convulsions, haemorrhaging, and other awful effects before they are ultimately pulled out of their prison cells and killed.
Again and again, studies published in esteemed scientific journals find that experiments on non-human primates do not replicate human disease, yet experimenters have carte blanche to go on harming, frightening, and killing animals in laboratories as if no one had pointed this out.
Today, you have a special opportunity to help PETA stop cruel experiments and get animals out of laboratory prison cages.
Please donate to  "Cut It Out" – PETA's Animal Test Challenge today and double your impact on our work to end cruel experiments on animals.Your donation will be matched  pound for pound, pushing us closer to our goal of raising £250,000 by our 31 October campaign deadline.
Animals don't voluntarily participate in experiments that scare the life out of them, cause them endless pain, and deprive them of all they care about. Macaques don't queue up to be pulled from their homes in Cambodia, China, Mauritius, and other countries; shoved into wooden crates for long, frightening journeys in air cargo holds; and shipped off to laboratories on the other side of the world. Monkeys born on squalid breeding farms are treated as mere test tubes with tails for experimenters to throw around, tie down, slice open, and kill. Every one of these animals experiences the same range of emotions that you and I do. Every one. Their joy is no different from ours – and neither is their fear, despair, or suffering..
It's no wonder that approximately 90 per cent of monkeys in laboratories exhibit severe stress-related behaviour. In undercover video, they can be seen rocking pitifully back and forth or spinning inside the metal boxes they are forced to live in, trembling in terror as they hear noises in the hall or, worse, the door opening and a masked, white-coated, giant human entering the room.
Stopping this horror for our fellow primates will take much more than bigger cages or more careful monitoring of experimenters. It will take the support of kind people such as youwho share our determination to replace experiments on animals with innovative, human-relevant, non-animal methods. We can do that – we are doing that – but we must do a lot more.
Your support today will go twice as far to help PETA scientists, researchers, and campaigners make that goal a reality. Every gift will be doubled, up to our £250,000 campaign goal.
Around the world, calls to end animal experiments are growing, but they must grow far louder. Your support during this special matching-gift challenge will help us inform regulators and other government officials about the cruelty of experiments on monkeys and other animals and enable our campaigners to reach more consumers. It'll also help ensure that effective, non-animal testing methods that already exist are held as the standard – and allow us to develop more.
Please strengthen all of our groundbreaking work against animal tests by making a generous gift today!
Kind regards,

Ingrid E Newkirk
Founder