FEATURED
At SeaWorld, orcas live in cramped concrete tanks and are denied the opportunity to swim long distances with a pod or do anything else that's natural and important to them. It's time that TUI followed in the footsteps of numerous other travel providers – including STA Travel and Thomas Cook – and severed ties with the marine abusement park.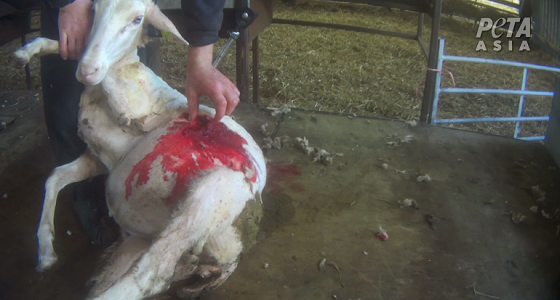 PETA Asia has submitted an in-depth formal complaint and evidence to the Scottish SPCA after an eyewitness documented wool workers in Scotland striking terrified sheep in the face with electric clippers, slamming their heads into the floor, beating and kicking them, and throwing them off shearing trailers.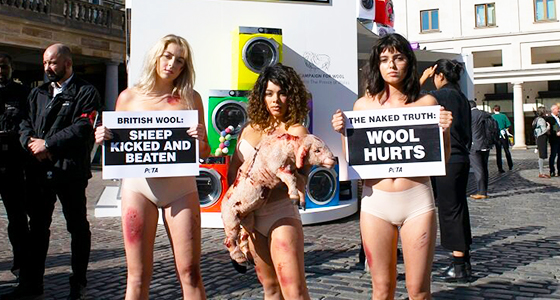 During the recent Wool Week events – and in the wake of the first-ever video exposé of the British wool industry – three "beaten" and "bruised" nearly naked PETA supporters descended on the Wool Care installation in London's Covent Garden.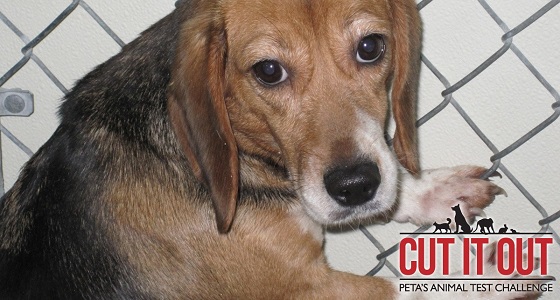 Right now, out of the public eye, experimenters are cutting open, burning, poisoning, and killing animals in laboratories. But today, you can do twice as much to help spare dogs, cats, monkeys, horses, rabbits, mice, and other animals this horrific suffering.
A school of fish is confined to a barren tank. There are no plants and no gravel – and the water has been poisoned with a chemical. Most people are unaware that this ecotoxicity testing goes on, but encouragingly, tools to replace the use of fish in some tests are already available and more are being developed.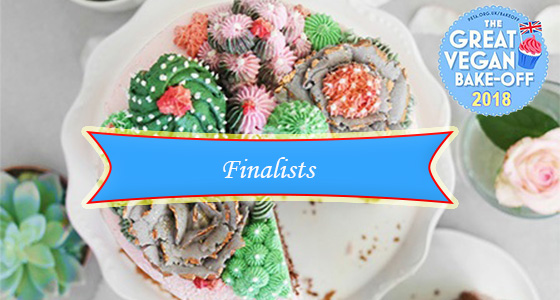 For this year's Great Vegan Bake-Off, we invited people to put their baking skills to the test and show off their favourite vegan creations. And they responded in droves! We've had an overwhelming number of submissions featuring scrumptious vegan delights, but who will be the winner?
URGENT ACTION NEEDED
PETA UK SHOP
BUSINESS FRIENDS
| | Trevor Sorbie is one of the most fearless and original hairdressers in history. With salons across the globe, Trevor and his team continue to set hairdressing trends and styles internationally.It's this expertise and desire to always lead the way that has influenced the Trevor Sorbie Salon Care Collection. Developed, tested and approved in their salons, these vegan, cruelty-free and over 90% natural* products allow you to enjoy salon results at home. Made in Britain with NO Sulphates, Sodium** or Gluten.*Shampoos & Conditioners with over 90% naturally derived ingredients. Excludes Smooth & Hydrate Conditioner at 88% Natural. **Sodium Chloride |
| --- | --- |
| | Viegan is more than just a plant based food and drink brand. Viegan products are all Vegan certified. As well as bringing delicious and nutritious food and drink into the market, Viegan aims to support, improve and bring positive change to the welfare of animals, our existing forests and our alarmingly threatened natural environment. |
| --- | --- |
This e-mail was sent to clint_ponderosa_the_magnificent@mail.com.
Please let us know if you'd prefer that we use a different e-mail address.
Unsubscribe From This E-Mail | Manage Your E-Mail Subscriptions | Receive Fewer E-Mail
This e-mail was sent by People for the Ethical Treatment of Animals (PETA) Foundation—a charitable company limited by guarantee, with its registered office at Cannon Place, 78 Cannon Street, London, EC4N 6AF. Registered in England and Wales as charity number 1056453, company number 3135903.