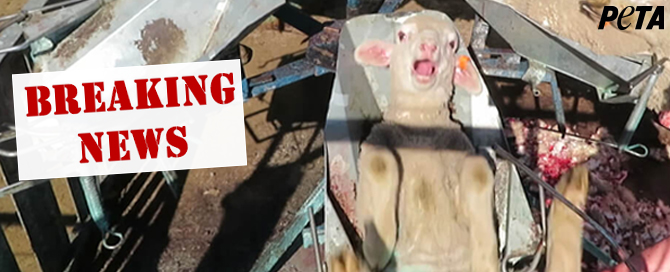 Help spare lambs, sheep, and other sensitive beings horrific abuse.
Dear clint,
If every consumer knew about the cruelty that's woven into woolly hats, socks, and blankets, they'd vow never to buy anyitem made with wool again.
An eyewitness working on farms in New South Wales and Victoria, Australia,found workers mutilating lambs one after the other: severing their tails with scorching blades, punching holes through their ears, and even clipping off some male sheep's testicles – all without any pain relief.
These new exposés also provide a glimpse into the hideous practice of "mulesing", in which workers carve chunks of skin and flesh from the backsides of terrified lambs in a crude attempt to address the problems caused by breeding sheep to produce excessive amounts of wool.
PETA is working to prevent animals from ever facing such misery. Will you help by making a gift right now?
Australia is the world's top wool exporter, but the cruelty of the industry spans the globe. PETA and our international affiliates have revealed the misery that sheep experience through 11 powerful exposés covering four continents and nearly 100 different operations. Workers in shearing sheds are typically paid by volume, not by the hour, so they work as quickly as possible, and – as shown again in the latest video – sometimes hitting panicked sheep just to keep the shearing line moving. The animals often sustain bloody gashes in this rough process, and shearers routinely stitch up their painful wounds right there on the filthy shearing floor.
Please strengthen PETA's vital work for sheep and all animals by donating today.
We're determined to stop the cruelty of the wool trade, and with every exposé we release, we hear from more and more consumers who've pledged to banish wool from their wardrobes. PETA US has persuaded many major retailers to ban wool from mulesed sheep – and just months ago, New Zealand passed a historic ban on mulesing after years of campaigning by kind people. Now, we're calling on the Australian wool industry to get with the times and ban mulesing, as it promised to do nearly a decade ago.
PETA's campaigns are inspiring more consumers, designers, and retailers than ever to embrace animal-friendly fashion, and with help from caring people like you, we're  ending the suffering of animals around the world.
You can help by making a generous donation to PETA  today.
Thank you for your compassion for sheep and other animals.
Kind regards,

Ingrid E Newkirk
Founder