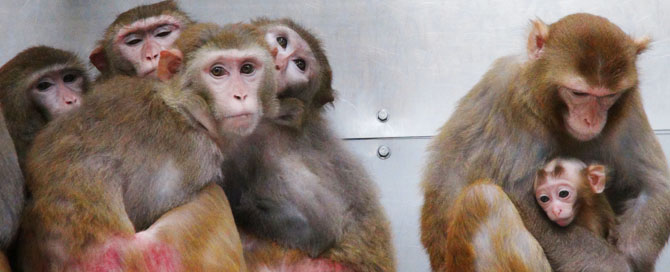 Let's replace suffering with joy! Make a Christmas donation for animals.
Dear clint,
A young macaque, trembling inside a wooden crate in a noisy air-cargo hold, has no idea why someone tore her away from her family – or of the horrors that await at her destination.
When she arrives at a laboratory halfway around the world from her forest home, she's locked in a barren steel cage, surrounded by the screams of other animals condemned there with her. She soon learns to dread the sounds of the door opening and the footsteps of the white-coated humans coming to inject her with chemicals that cause vomiting, diarrhoea, convulsions, haemorrhaging, and other awful effects.
Eventually, when the last round of tests is over, she's pulled out of her prison cell and killed.
While people gather together with their loved ones this Christmas, countless monkeys just like her have no relief from loneliness, pain, and despair. Will you help animals by making a special donation to PETA right now?
Experiments on non-human primates cannot replicate human disease – yet experimenters around the world are still poisoning, cutting open, and tormenting thousands of primates every year.
Together, we can stop the suffering of monkeys and other animals – but it will take a special commitment from kind people like you.
Please donate to PETA right now and support our groundbreaking work for monkeys and other animals!
Your much-needed gift will boost our campaigns to promote the development and use of non-animal research methods; allow us to inform many more consumers about horrific animal abuse in laboratories, on farms, and elsewhere; and help make the world a better place for animals.
Thank you for your compassion and generosity.
Kind regards,

Ingrid E Newkirk
Founder