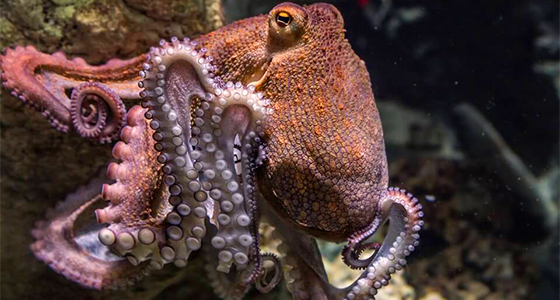 Dear clint,

Following an outlandish study on octopuses, US experimenters want to carry out further testing of psychiatric drugs on these highly intelligent animals – even though the results of animal testing are unreliable and inapplicable to humans.

Seven octopuses – four of whom had been drugged with MDMA, or ecstasy – were placed inside a water chamber from which they could access two adjacent chambers: one containing a plastic action figure in a cage and the other an unfamiliar octopus in a cage.

The octopuses who had been exposed to MDMA spent more time in the chamber with the unfamiliar octopus than those who hadn't been drugged did, and the experimenters suggest that this indicates an evolutionary link between octopuses' social behaviour and that of humans.

This speculation is completely absurd – octopuses are whole individuals, not under-evolved humans.

They are so far removed along the evolutionary line from humans that it's inaccurate and ridiculous to make sweeping statements about the development of medical treatments for human-based disorders based on results of tests on octopuses.

Experimenters need to stop thinking up new ways to torment animals in order to obtain funding and instead dedicate themselves to innovative, animal-free science that actually helps humans. Please help by calling on the European Commission and the European Parliament to observe a moratorium on all animal experiments:

Thank you for your compassion.

Sincerely,

The Science Team

PETA UK

If you received this message from a friend, you can sign up for PETA E-News here.

Please do not respond to this e-mail. Instead, click here to contact PETA.

People for the Ethical Treatment of Animals (PETA) Foundation — a charitable company limited by guarantee, with its registered office at 125 London Wall, London, EC2Y 5AS. Registered in England and Wales as charity number 1056453, company number 3135903.

To stop receiving e-mails from PETA, click here to remove your address from our lists. Update your details.This e-mail was sent by the People for the Ethical Treatment of Animals (PETA) Foundation, PO Box 70315, London N1P 2RG.