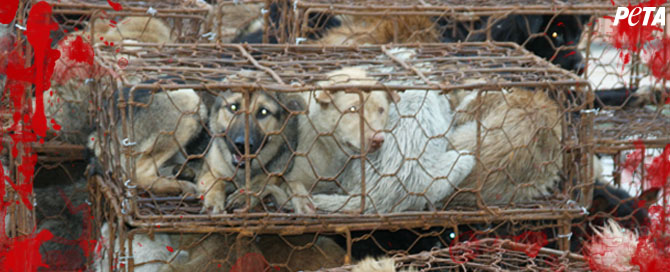 Help end the suffering of dogs, cats, and other animals.
Dear clint,
Trapped behind the wires of a rusty cage, a dog's whole body trembles in fear. She's still disorientated after being snatched off the streets, thrown into the back of a van, and brought to this noisy, terrifying place that reeks of blood and guts.
Her fear has grown as she has watched other dogs being bludgeoned, hung up by the tail, and skinned – she knows that the moment that cage door opens, it'll be her turn.
No animal should face such torment. Will you help us protect countless sensitive beings by making a generous gift today?
Eyewitness footage from China's live-animal markets reveals horrific suffering: dogs and cats writhe and wail as they're bludgeoned – some still conscious and in agony as their skin is torn off.
With no laws in place in China to protect these animals, the scale of the suffering caused by the skins trade there is almost unimaginable. It's estimated that hundreds of thousands of dogs and at least 2 million cats are killed and skinned in the country each year, their pelts turned into trim or trinkets that are sold throughout the world to unsuspecting consumers.
With each groundbreaking exposé we release and every company we encourage to implement animal-friendly policies, we're inspiring more caring people to take action for animals and persuading more designers, retailers, and consumers to choose fashions that don't bleed.
After years of campaigning by PETA and our international affiliates, even long-time holdouts like Coach, Burberry, and Versace are recognising that there's no market for fur among today's compassionate consumers – and have stopped using it. Big-name retailers have watched our exposés and won't sell mohair or angora. Companies are offering down alternatives now that they know about the "live-plucking" of geese. Fashion shows in Berlin and Helsinki are now fur- and leather-free. Vegan leather is a must-have among designers, and Meghan, Duchess of Sussex – who often carries a vegan bag – created a rush on it when she wore a faux-leather skirt. The brands that stubbornly still use animal skins know that it's only a matter of time before they, too, must respond by pulling these materials from their shelves and racks.
The future success of PETA's vital work depends on kind people like you. Will you help sheep, foxes, rabbits, geese, and other animals by donating to PETA today?
Thank you for your compassion.
Kind regards,

Ingrid E Newkirk
Founder