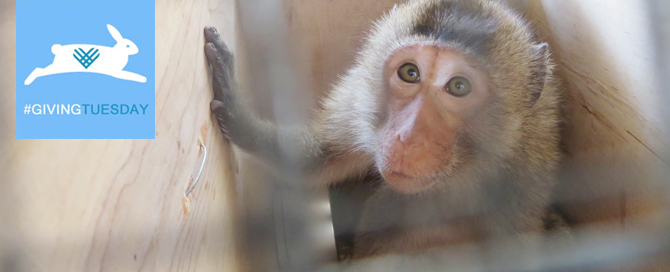 #GivingTuesday: You can make a difference for animals in need.
Dear clint,
This #GivingTuesday, you can help change the lives of animals in need – from the mother pigs suffering on massive farms in farrowing crates so small that they can't even turn around to the lonely monkeys rocking and pacing inside the cages of secretive laboratories before they are poisoned, cut open, and tormented.
clint, please make a #GivingTuesday donation to PETA right now and strengthen our vital work to protect pigs, monkeys, and all animals from misery and abuse.
I know that with compassionate people like you behind us, we can have a truly remarkable impact for animals in the months ahead!
Here's just a bit of what you've helped us accomplish for animals this year alone:
• We released a first-of-its-kind exposé of the mohair industry. After learning that goats are violently shorn for mohair, hundreds of brands have now banned the cruelly obtained material.
• We posted free vegan starter kits to numerous consumers to help them embrace a healthy, compassionate, animal-friendly lifestyle.
• We caught the public eye with advertisements, spirited demonstrations, and creative online campaigns exposing the cruelty of the global skins trade, which abuses millions of rabbits, cows, foxes, cats, dogs, and other animals each year.
Our movement to spread kindness and help animals who desperately need us keeps growing – but we need your support. That's why I'm asking you to make a special gift this #GivingTuesday for animals.
In the coming months, we must expand our efforts to promote cutting-edge, non-animal research methods that can prevent millions of living beings from suffering in laboratories … persuade more designers and retailers to stop using the fur, skin, and feathers of abused animals … and give more animals a chance at the freedom and happiness that they deserve.
Will you give our hard-hitting campaigns a much-needed boost by making a #GivingTuesday donation right now?
Thank you for your compassion and generosity.
Kind regards,

Ingrid E Newkirk
Founder