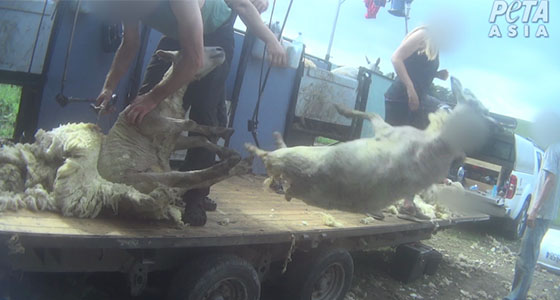 Dear clint, 
Last night, Channel 4 News broke a disturbing PETA Asia investigation of the wool industry in the UK which showed workers beating, stamping on, kicking, mutilating, and throwing around sheep.
The eyewitness saw cruelty in every one of the 25 English shearing sheds visited by two shearing contractors. Workers stood on the necks of panicked sheep, violently punched these gentle animals in the face, and beat and jabbed them in the head with clippers.
Gaping wounds were sewn up without pain relief.
A farmer dragged two sheep who were unable to walk into a shed and left them without veterinary care. They eventually died. Several others died during shearing of a condition that a farmer called a "heart attack".
PETA has already exposed rampant abuse in shearing sheds across Australia, the United States, and South America. PETA Asia's investigation shows that, as should be expected in this bloody industry, the cruelty takes place in the UK, too.
The RSPCA has been alerted to the findings, and PETA will be pushing British retailers to stop stocking products made with wool. Please look out for an e-mail detailing how you can help.
In the meantime, please share PETA Asia's investigation with your friends and family and let everyone know how sheep suffer for wool.
Thanks for all you do for animals,
Sincerely,
PETA UK