She watched as dog after dog was bludgeoned and skinned.
Dear clint,
She is pulled off the street in China and thrown into the back of a lorry, then taken to an abattoir where the air reeks of death and the floor is slick with the blood of dozens of dogs killed before her. For hours, she watches workers grab other dogs with metal pincers and bash them over the head with a wooden club. Some dogs cry out in agony, then struggle to breathe after their throats are slit and before their skin is peeled off.
While the dogs around her are frantic to escape, she cowers near the back of the crowded pen – because she knows that eventually the door will open and she'll be next.
That loyal, gentle dog is no different from the dogs you may share your home with – but rather than receiving affection from a loving family, she was killed and her skin was sold to be turned into a pair of work gloves. This is violence on a massive scale: the PETA Asia eyewitness who documented this cruelty learned that just a single operation killed and skinned as many as 200 dogs a day.
The investigator witnessed the skin of abused dogs being turned into men's work gloves, which were exported from China and sold to unsuspecting consumers around the world. And it's not just leather – dogs and cats sold at Chinese animal markets are also being killed for their fur and are sometimes even skinned alive! On Chinese fur factory farms, foxes, minks, and rabbits are confined to filthy, cramped cages until they are yanked out, bludgeoned, and skinned. Investigators documented that the hearts of some of those animals were still beating even after their skin had been torn off.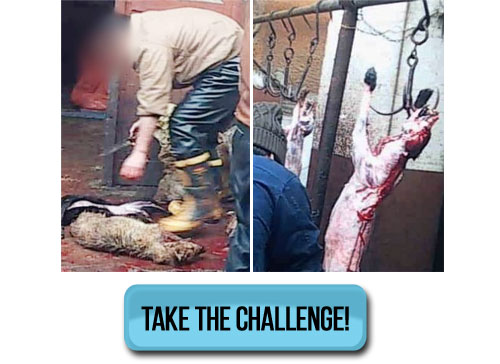 Exposés of dog-leather abattoirs, animal markets, and fur farms by PETA have inspired thousands of compassionate people around the world to ditch all leather items – and the demand for fur is so low that today, the remaining Chinese fur-processing plants are operating with skeleton crews. Even Donatella Versace has joined other fashion giants, including Gucci and Michael Kors, in ditching fur, and more consumers than ever are pledging that the only skin they'll wear is their own. It's clear that momentum is on our side – thanks to support from kind people like you.
Please donate to our "Save Our Skins" challenge today. Every penny of your contribution will strengthen PETA's groundbreaking work to reduce and ultimately stop cruelty to animals in the clothing industry.
Thank you for your compassion and generosity.
Kind regards,

Ingrid E Newkirk
Founder